Perspectives in Education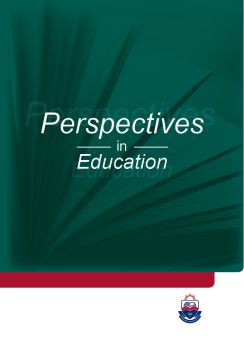 Permanent URI for this community
This community is being populated.
Perspectives in Education is a professional, peer-reviewed journal that encourages the submission of previously unpublished articles on contemporary educational issues. As a journal that represents a variety of cross-disciplinary interests, both theoretical and practical, it seeks to stimulate debate on a wide range of topics. PiE invites manuscripts employing innovative qualitative and quantitative methods and approaches including (but not limited to), ethnographic observation and interviewing, grounded theory, life history, case study, curriculum analysis and critique, policy studies, ethno-methodology, social and educational critique, phenomenology, deconstruction, and genealogy.
Debates on epistemology, methodology or ethics, from a range of perspectives including post-positivism, interpretivism, constructivism, critical theory, feminism and post-modernism are also invited. PiE seeks to stimulate important dialogue and intellectual exchange on education and democratic transition with respect to schools, colleges, non-governmental organisations, universities and universities of technology in South Africa and beyond.
ISSN 2519-593X (Online), ISSN 0258-2236 (Print)
Browse
Collections in this Community