Occupational therapy assessment and the medico-legal report: the legal perspective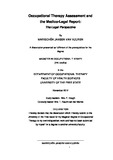 Authors
Jansen van Vuuren, Mariechén
Publisher
University of the Free State
Abstract
The involvement of the occupational therapist in medico-legal work or third party claims is not a new phenomenon. Research in this area however previously focused on the skills and other traits of the occupational therapist. Little is known about the legal profession's knowledge and expectations regarding the occupational therapist serving as an expert witness, especially in the South African legal, economic, social and cultural context. Discovering how especially attorneys perceive and experience the role of the occupational therapist in medico-legal work is therefore essential as occupational therapists' involvement in medico-legal work is mostly facilitated by attorneys who instruct medico-legal assessments. The process and methods of instructing and utilising expert witnesses such as occupational therapists is unfortunately often not optimally effective with potentially dire effects for a country such as South Africa which already battles with poverty and unemployment, especially under workers with disabilities. International research has furthermore placed an increased emphasis on the role of the occupational therapist in encouraging and working towards aspects such as various forms of occupational justice and the impact of a person's inability or altered ability to participate in occupations as before injury or illness. Therefore, against a backdrop of changing legislation regarding third party claims and an increase in medical negligence claims, the scope and role of occupational therapy in this field was explored and defined in this study, based on information obtained directly from members of the South African legal profession. Barriers between the occupational and legal profession that could hinder fair compensation for the claimants, such as communication transgressions or ineffective service delivery, were also identified. This study aimed to gather such information by means of a quantitative study under South African trained and based attorneys. A nominal group was used to support questionnaire development and also served to encourage the researcher that aspects addressed in this study through the questionnaire was vital to the everyday practice of the South African occupational therapist performing medico-legal assessments and reports. Research results indicated that attorneys have distinct expectations from the occupational therapist, but that some confusion exists pertaining to the unique role and contribution of the occupational therapist compared to other health professions. Where attorneys appeared to have a generally good understanding of terminology used by occupational therapists in assessment reports, several occupation therapy specific terms had different meanings for the legal profession. Recommendations made based on this study are believed by the researcher to address the specific problems identified in this study and should encourage future research in this field.
Keywords
Dissertation (M.Occupational Therapy (Occupational Therapy))--University of the Free State, 2012
,
Health insurance claims
,
People with disabilities -- Legal status, law, etc.
,
Occupational therapy
,
Medical history taking
,
Medical jurisprudence
,
Terminology
,
Assessment reports
,
Legal professionals
,
Medico-legal