Revisiting expansive learning for knowledge production and capability development at postgraduate level in Higher Education Studies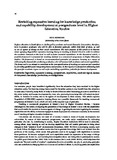 Publisher
Faculty of Education, University of the Free State
Abstract
Higher education in South Africa is challenged by academic and social demands. Universities, therefore, have to produce graduates who will be able to function optimally within their field of study, as well as act as agents of change in their social environment. The main purpose of this article is to theorise about applying Engeström's expansive learning theory to teaching at Master's level in order to address the academic demands at this level as well as foster essential capabilities. In this theoretical article, a possible framework is proposed for teaching students in a coursework programme in Higher Education Studies. The framework is based on re-conceptualised principles of expansive learning as a means of addressing the demands for producing graduates, who will possess both academic and social capabilities. The framework is an attempt to contribute to the conceptualisation of teaching as a process and a product by providing guidelines for integrating theory and practice. In this regard, it is focused on addressing both the quest for academic rigour as well as for embedding capabilities, valuable for human development.
Keywords
Engeström
,
Expansive learning
,
Postgraduate
,
Capabilities
,
Academic rigour
,
Human development
,
Knowledge production
,
Co-configuration
Citation
Niemann, R. (2013). Revisiting expansive learning for knowledge production and capability development at postgraduate level in Higher Education Studies. Perspectives in Education, 31(1), 30-39.