The SANDF as an instrument for peacekeeping in Africa: a critical analysis of three main challenges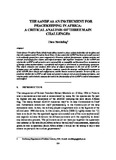 Publisher
Faculty of the Humanities, University of the Free State
Abstract
Under former President Thabo Mbeki South Africa started to play a salient leadership role in Africa and this role continues under President Jacob Zuma. In this context the SANDF has been and is still expected to be militarily geared for a peace support role. However, political functionaries, military analysts and scholars increasingly pose serious and critical questions with regard to "readiness" in the SANDF and whether the SANDF is still geared to serve purposefully, meaningfully and functionally as an instrument of foreign policy implementation – specifically with regard to involvement in peacekeeping operations. This article examines and analyses three areas of critical importance to the role of the SANDF in bringing peace and stability on the African continent, namely the strategic and financial management of the SANDF; force design and configuration; and the human resources situation. In view of this, it is pondered whether the SANDF is still ready and geared to play its role in peacekeeping operations, and whether public and scholarly criticism directed at the functionality of the SANDF is indeed substantiated and justified.
Keywords
South African National Defence Force
,
Foreign policy
,
Peacekeeping operations
Citation
Neethling, T. (2011). The SANDF as an instrument for peacekeeping in Africa: a critical analysis of three main challenges. Journal for Contemporary History, 36(1), 134-153.