Obtaining informed consent in non-Western contexts: reflections on fieldwork experiences in Zimbabwe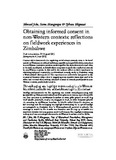 Publisher
University of the Free State
Abstract
English: Current ethics frameworks for regulating social science research seem to be based mainly on Western sociocultural traditions, arguably making it difficult for researchers in non-Western contexts to use them as ethics guides. Yet, these frameworks tend often to be used, un-adapted, as default ethics compasses to guide the conduct of research in non-Western contexts. In this article, the authors reflect on their experiences in obtaining informed consent for an educational research study in Zimbabwe using a Western-based ethics protocol. The experiences are reflectively interpreted in the context of literature with a view to suggesting some sensitive issues that need to be taken into account when seeking informed consent of research participants in non-Western contexts, particularly in Africa.
Afrikaans: Huidige etiekraamwerke vir die regulering van sosiale wetenskapnavorsing blyk hoofsaaklik op Westerse sosiokulturele tradisies gebaseer te wees en maak dit moeilik om deur navorsers in nie-Westerse kontekste as etiese gidse gebruik te word. Tog word hierdie raamwerke, sonder om aangepas te word, as etiese kompasse gebruik vir navorsing in nie-Westerse kontekste. In hierdie artikel fokus die skrywers op hul ervaringe met die verkryging van ingeligte toestemming vir 'n opvoedkundige navorsingstudie in Zimbabwe deur 'n Westers-gebaseerde protokol te gebruik. Die ervaringe is vertolk in die konteks van literatuur met die oog op voorstelle oor sensitiewe kwessies wat in ag geneem moet word wanneer daar ingeligte toestemming verlang word van navorsingsdeelnemers in nie-Westerse kontekste, veral in Afrika.
Keywords
Social science research
,
Research ethics
,
Culture
Citation
Jeko, I., Mangwaya, E., & Blignaut, S. (2012). Obtaining informed consent in non-Western contexts: reflections on fieldwork experiences in Zimbabwe. Acta Academica, 44(4), 184-201.