Die dagboek van'n Boeremeisie in diens van die vyand-siekte en sorg in die Bethulie-kamp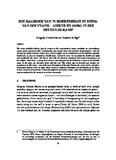 Publisher
Faculty of the Humanities, University of the Free State
Abstract
The many published diaries kept by women in the concentration camps constitute an extraordinary aspect of the Anglo-Boer War. Undoubtedly, some diaries have only survived within families – like the one kept by Susara Johanna (Sarie) Roos. Armed conflict can be considered to be the antithesis of public health and, as such, it constitutes a health issue. Central to every war one finds the health care staff, and specifically the nurse, who has to deal with the physical, emotional and social consequences of the conflict. Sarie Roos, a young Boer woman, was employed by the British as a nurse in the Bethulie camp. In the main, her narrative deals with this role. This article aims to describe and analyse her experiences in this camp – one of the most devastating of its kind. During the course of her narrative, documented history comes to light, which serves to verify the reliability and authenticity of her diary. It does, however, also provide a somewhat different view of the events – from the perspective of a Boer woman employed by the enemy to serve her own people.
Keywords
Anglo-Boer War
,
Concentration camps
,
Diaries
,
Roos, Susara Johanna (Sarie)
,
Nurses
,
Narratives
Citation
Pretorius, E., & Krige, D. (2011). Die dagboek van'n Boeremeisie in diens van die vyand-siekte en sorg in die Bethulie-kamp. Journal for Contemporary History, 36(2), 70-89.