The value of small-scale student projects in undergraduate research training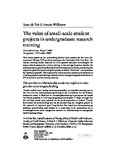 Publisher
University of the Free State
Abstract
English: This article reports on the undertaking of small-scale projects for final-year Occupational Therapy (OT) students training at the University of the Free State. An Action Learning Action Research (ALAR) approach was used to investigate the impact of such projects in a clinical setting. A tree analogy is used to describe the student projects, providing the body of the investigation as a whole, and sharing the experience gained in determining the constituents of the "fertile soil" and conditions for "optimum growth". The impact of ALAR on practical experience is explained as a first step towards establishing a research culture among undergraduate students in OT as well as in similar training contexts.
Afrikaans: Hierdie artikel lewer verslag oor studenteprojekte van beperkte omvang wat in die finale jaar van Arbeidsterapie-opleiding aan die Universiteit van die Vrystaat onderneem word. 'n Aksieleer en -navorsingsbenadering is gevolg om die impak van hierdie projekte in 'n kliniese omgewing te ondersoek. 'n Boom-analogie van die volledige projek word gebruik om die studenteprojekte te beskryf. Hierdie beeld orden die ondervindings wat tot die samestelling van "vrugbare grond" en die toestande vir "optimale groei" bygedra het. Die impak van aksienavorsing op praktiese ondervinding word beskou as 'n eerste stap in die daarstelling van 'n navorsingskultuur onder voorgraadse studente in Arbeidsterapie en soortgelyke opleidingsomgewings.
Keywords
Undergraduate students
,
Research training
,
Occupational Therapy
Citation
Du Toit, S., & Wilkinson, A. (2010). The value of small-scale student projects in undergraduate research training. Acta Academica, 42(2), 169-198.