De-automatisation in Romans 1-5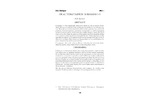 Publisher
Faculty of Theology, University of the Free State
Abstract
In Romans 1-5 Paul foregrounds certain main themes by way of stylistic devices, which effectuate a retardation in the reading process and thus an intensified perception. These devices can all be described as devices of de-automatisation, and include paradoxon, rhetorical questions, anacolouthon and parenthesis, as well as ambiguous sentence structures, newly coined words and a sudden change in person. By way of these devices, Paul draws the attention of his readers/listeners to important themes in his argument, such as justification through faith alone; God's judgement on what man does, not who he is; the benefits of justification through faith; and life for all, who believe in Christ. These themes are foregrounded, due to a careful balance between automatisation and de-automatisation. It is proposed that, with a view to effective communication, translators should, whenever possible, honour these devices in translating Paul's letters.
Keywords
New Testament exegesis
,
Letters to the Romans
,
Rhetoric
,
De-automatisation
Citation
Snyman, A. H. (2002). De-automatisation in Romans 1-5. Acta Theologica, 22(1), 135-145.